Charcoal for Children
Charity exhibition 2016/17
27th February – 13th May 2017
Open for public by appointment
Invited artists:
I Wayan Sujana 'Suklu', Reno Ganesha, Noella Roos, Nyoman Wijaya, Natisa Jones and Budi Agung Kuswara 'Kabul'.
Exhibition opening:
Friday 24th February 2017, 6pm – 8.30 pm
Featuring video mapping projection by Wicitra Pradnyaratih 'Acyd'.
To view the collaborative artwork of each artist x children please click on the link below: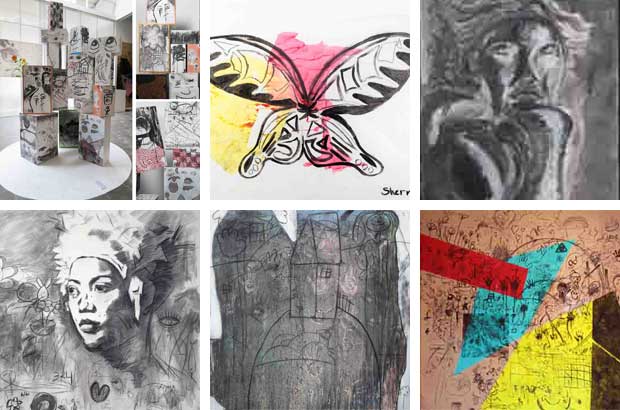 All collaborative artworks are available for your personal collection.
The profits from selling the artworks will go directly to support future Charcoal For Children programs.
e-Catalogue: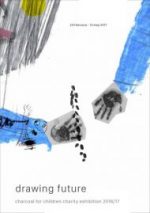 Photo by: Masuria Sudjana
As part of DRAWING FUTURE: Charcoal for Children charity exhibition 2016/17 program, CushCush Gallery & LagiLagi will have MEET THE ARTIST session with each of the invited artist who participate at the previous Charcoal for Children workshop. MEET THE ARTIST is a great opportunity for children/ student/ personal/ creative people to get to know more about the artist's story, how they create their work and of course the idea behind their Charcoal for Children workshop they did with the children.
The MEET the Artist schedule as follows:-
Reno Ganesha : 24 February 2017 (Friday)
Natisa Jones : 9 March 2017 (Thursday)
Budi Agung Kuswara 'Kabul' : 22 March 2017 (Wednesday)
Nyoman Wijaya : 11 April 2017 (Tuesday)
I Wayan Sujana : 19 April 2017 (Wednesday)
Noella Roos : 28 April 2017 (Friday)
Open for public, limited seats
RSVP: Indrawati +62 361 242034
Or email info@cushcushgallery.com
***
What is in a charcoal?
Black, dirty… that is what many people associate charcoal with. In Indonesia, charcoal may be associated with satay, and in Australia, perhaps BBQ! If you had experienced 'Bali Belly', you probably would have popped charcoal pills to neutralise your upset tummy.
Then there is the other charcoal that is used for drawing. Indeed, charcoal has been used to make art for thousands of years. It has been said that cave paintings discovered all over the globe have shown how charcoal has been used in art for more than fifteen thousand years. It is believed that the drawings have been drawn with the charcoal created from burnt sticks, and it is likely that it did not take long after man discovered fire that man also discovered the bold and rich markings of the remnants of the fire.Cave painting from the Niaux cave in France is a fine example of this early existence of charcoal drawing.
In 'CHARCOAL FOR CHILDREN' (CFC), a program initiated by CushCush Gallery (CCG), the medium is LagiLagi DIY charcoal made using twigs and off-cuts timber, to fuel creativity amongst children, and to bring artists and creative communities together!
The use of DIY charcoal as a medium is a deliberate one, relating to its significance in its history and tradition, as well as how it is closely linked to our natural environment and progress in humanity. The program is part of 'LagiLagi', an initiative that aims to encourage creativity amongst children and is free for children 8–16 years old.
CHARCOAL FOR CHILDREN 2016/17 theme is 'DRAWING FUTURE'. This time, the charcoal is used as a medium for drawing and painting. 6 invited artists, with the help of 30+ volunteers from creative communities, work together with 100+ children from different backgrounds to create collaborative artworks. At the end of 3 sessions, all the collaborative artworks are celebrated through a charity group exhibition, and the proceeds of works sold will fund future CHARCOAL FOR CHILDREN sessions.
Creativity does not need much. A twig from our environment, a community who is passionate about sharing the awareness of environment and goodness of creativity, arts and design, and children who want to have fun!
Through CHARCOAL FOR CHILDREN, CCG and LagiLagi hope that the ordinary charcoal will trigger a 'wave' of creativity-loving children (as well as parents!!) by emphasizing the generation and expression of ideas in a non-evaluative framework.
By making learning fun, and giving children the freedom to discover things they love, and encouraging them to sort out their values and interests, children learn to be confident to think critically and creatively. Important traits for our future generation!
Help us develop future leaders and innovators. Join the movement and support creativity!
News